In the Eye of the Storm
Keynote
The experience of a negative media storm: The impact on Karolinska Institutet of the scandals surrounding professor Macchiarini in 2016. A story about dealing with the media in a university scandal of great magnitude.
Keynote speaker: Per Bengtsson, University Director at Karolinska Institutet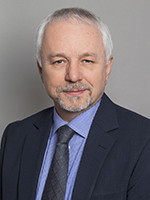 Per Bengtsson is University Director at Karolinska Institutet, a position he has held since January 2012. Mr. Bengtsson has a university degree in public administration and political science and a professional background from the Swedish government ministries, where he held a variety of positions, from civil servant to head of department. As University Director, he has overall responsibility after the Vice-Chancellor for Karolinska Institutet's administrative, legal and financial management, and is also head of the central university administration.